Floral Management
Floral Management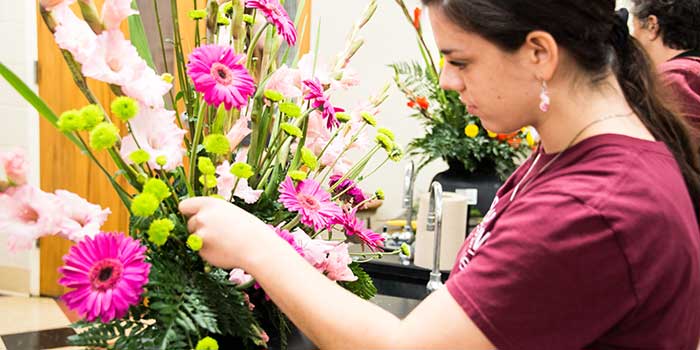 Floral Management involves sourcing, purchasing, distributing, marketing, designing with, and selling floricultural products. Students enrolled in this concentration are provided with courses in design and horticulture, balanced with business and sciences. Career opportunities for graduates include retailing, wholesaling, special event designing, and display gardening. The University Florist, a professional flower shop owned and operated by the Department of Plant and Soil Sciences on the MSU Campus, provides students with work and management opportunities. The floral management curriculum is in the Horticulture major.
Occupational Outlook Handbook: Most floral designers work in retail businesses, usually flower shops and grocery stores. The median annual wage for floral designers was $29,140 in May 2020.
Curriculum
Download the four year curriculum
---
Accelerated Program
Highly qualified undergraduates at Mississippi State University are encouraged to consider applying to the Accelerated Program. This program permits enrollment in graduate courses in Agronomy, Horticulture, or Weed Science during the student's final year of undergraduate studies. Enrollment of up to 9 hours of graduate courses is approved for students admitted to the Accelerated Program. Upon completion of the graduate course(s), undergraduate credit is also awarded for the course. Students need to consult with a potential graduate advisor to ensure graduate credit could be applied to a program of study for the M.S. degree. Application to this program may be made as early as the end of the junior year (i.e., after completion of 90 or more hours of graded undergraduate courses). This option is only available for students pursuing a thesis-based Master of Science degree in Plant and Soil Sciences with a concentration in Agronomy, Horticulture, or Weed Science.
---
Careers
Freelance floral design
Garden design and management
Horticulture therapy
Hotel/Casino hospitality floriculture management
Media design and styling
Retail floristry
Specialty visual design
Traditional and concept floriculture retailing
Wedding and bridal design planning
Wholesale floral management
---
Internship Requirements
Students enrolled in the Floristry Internship must complete 400-480 hours of work experience with an approved internship company. This is equivalent to 10-12 weeks of full-time (40 hour/week) employment.
The purpose of the MSU Floristry Internship is to enable students to gain industry experience during their baccalaureate degree program. This internship is viewed as an enriching educational experience where students apply classroom learning to a professional setting. Upon completion of the internship, students bring new information and skills back to the classroom, enhancing their learning as well as that of their classmates.
---
Minor in Floral Management
A Minor in Floral Management consists of the following courses:
PSS 2343 Floral Design (required)
Choose 12 hours from the following:
PSS 3313 Interior Planting Design and Maintenance
PSS 3343 Wedding Floral Design
PSS 3443 Permanent Floral Design
PSS 4023 Floral Management
PSS 4073 Sympathy Floral Design
PSS 4083 Floral Design for Special Events
PSS 4093 Post-Harvest Care of Cut Floral Crops
---
Scholarships
Students may apply for university, college and departmental scholarships through one application. You can find the scholarship application once you login to myState. Under the banner tab, select Financial Aid and Scholarships. The application is listed as Submit/Revise General Scholarship Application.
---
Transfer Students
Students may transfer to Mississippi State University from regionally accredited community, junior or senior colleges for any period of enrollment, provided they have earned a 2.0 GPA (as computed by Mississippi State University) on all college courses attempted as well as earned a 2.0 GPA on the 30-hours of core courses. Transfer students should look at the transfer course equivalent guide to determine which courses will transfer.
Quick Links:
Want to know more? Contact: